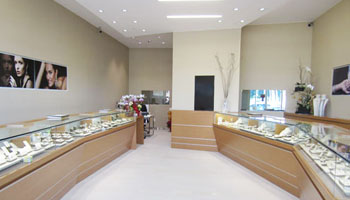 Your Best Source for Diamonds & Fine Jewelry in Orange County
Welcome to Jewels By Alan
At Jewels By Alan we believe there is nothing more special than the love between two people who vow to dedicate their lives and their hearts to each other.  That is why we aim to create a ring that will inspire you while providing as much – or as little – help as you want during the process.
We are passionate about great design. Our staff nearly 100 years of combined experience at designing and making fine jewelry, and it shows in our craftsmanship and attention to detail.  That is why we have been a trusted resource for engagement rings and handcrafted custom jewelry in Orange County for over 30 years.
We specialize in European styling, fine Italian Jewelry, vintage-style engagement rings, custom designs, premium loose and GIA certified diamonds. We carry a wide selection of exquisite engagement rings, diamond wedding bands, necklaces, stunning earrings and custom jewelry to cater to brides-to-be.
With a mix of innovative & time-tested jewelry designs we can help you discover exactly what you are looking for.  
Come visit our elegant storefront
located in the heart of Orange County at the prestigious Park Place or view our online galleries.
What Our Customers Have to Say

"Absolutely love this place!"
Nasrine & Alan are absolutely a pleasure to work with, as well as kind and professional. My fiancé proposed to me with an incredible ring and he says they helped him throughout the entire process. I have gone back multiple times to order our wedding bands and they are always so friendly and happy to help.
Nicole H. | Mission Viejo

"Alan and Nasrin are the best!"
I was introduced to them casually when I went in with my hair dresser. I immediately felt like I could trust them. Months later I went in with my husband to see if they could custom build a ring for our Silver anniversary that I had seen elsewhere. From the picture to the perfect ring I have on my finger, is the work of art that I treasure.
Engagement Rings, Diamond Jewelry & Quality Customer Service